A Complete Guide to Wadi Rum: Everything You Need to Know
May 29
Nestled in the heart of Jordan's southern desert lies Wadi Rum, a breathtaking landscape filled with towering rock formations and awe-inspiring dunes. Known as the "
Valley of the Moon
," Wadi Rum is a must-visit destination for travellers seeking a thrilling adventure or a peaceful retreat in the midst of nature's majesty. But with so much to see and do in this incredible location, planning a trip can sometimes feel overwhelming. That's why we've put together this complete guide to Wadi Rum - to help you make the most of your time in this extraordinary place. From the best times to visit the top attractions and activities to practical tips for travelling in this rugged terrain, we've got everything you need to know right here. So, grab your sense of adventure, and let's dive in!
Overview of Wadi Rum
Are you ready for an unforgettable adventure in Jordan? Look no further than Wadi Rum, a stunning desert wonderland that will leave you in awe. With its dramatic sandstone and basalt mountains rising from the sandy floor, this protected wilderness near Jordan's southern border is a true adventurer's paradise. Named the Valley of the Moon for a good reason, Wadi Rum offers endless natural intrigue and beauty waiting to be explored. From riding a camel to driving a jeep or hiking, there are plenty of ways to experience this remarkable destination. Whether you're a history buff or a nature lover, Wadi Rum has something for everyone. So, if you're planning a trip to Jordan, add Wadi Rum to your must-visit list.
Wadi Rum is much more than just an ordinary desert. Its storied history and rich cultural element make it a must-see destination. The remnants of prehistoric Nabatean society can be found throughout the desert, including petroglyphs, inscriptions, and scattered ruins. More recently, Wadi Rum was introduced to the Western world by T.E. Lawrence, famously known as Lawrence of Arabia, who was periodically based in the area during the Arab Revolt of 1917. Today, nearly all current residents of Wadi Rum are Bedouin, and many elements of Bedouin life remain ubiquitous in the area, offering visitors the chance to enjoy an authentic cultural experience.
With nearly 300 square miles of terrain, there's no shortage of things to see and do in Wadi Rum. If you're short on time, it's best to prioritize your activities. For a day trip from Aqaba or Wadi Musa, a guided jeep tour is an excellent option for maximizing your time. Start in Rum Village and head to Lawrence Spring for a short but rewarding scramble with sweeping desert views. Stop at Khazali Canyon and Anfishiyyeh to admire the ancient inscriptions on the impressive rock walls before enjoying an authentic Bedouin lunch in the shade. Take a scenic drive to Um Fruth rock bridge and continue to the lush Abu Khashaba canyon. Before returning, visit at least one of the massive dunes and take in the stunning sunset at Um Sabatah.
Spending at least one night in Wadi Rum is highly recommended. Sleeping under the desert stars is an unforgettable experience, and you'll be treated to an immersive Bedouin experience. Tour providers typically have overnight camps that range from rustic to luxurious, each offering delicious Bedouin dishes for dinner accompanied by storytelling and live music performed on traditional instruments. Perhaps the best part is the brilliant night sky - second only to the cup of hot tea you'll enjoy the next morning. Adding another day (or two!) allows time to see more of the area's best-loved attractions, like climbing to the top of Burdah Rock Bridge – the tallest natural arch in Wadi Rum. Whether you're a thrill seeker looking for an adventure or simply seeking an escape from the hustle and bustle of everyday life, Wadi Rum is the perfect destination to explore and unwind.
[1]
[2]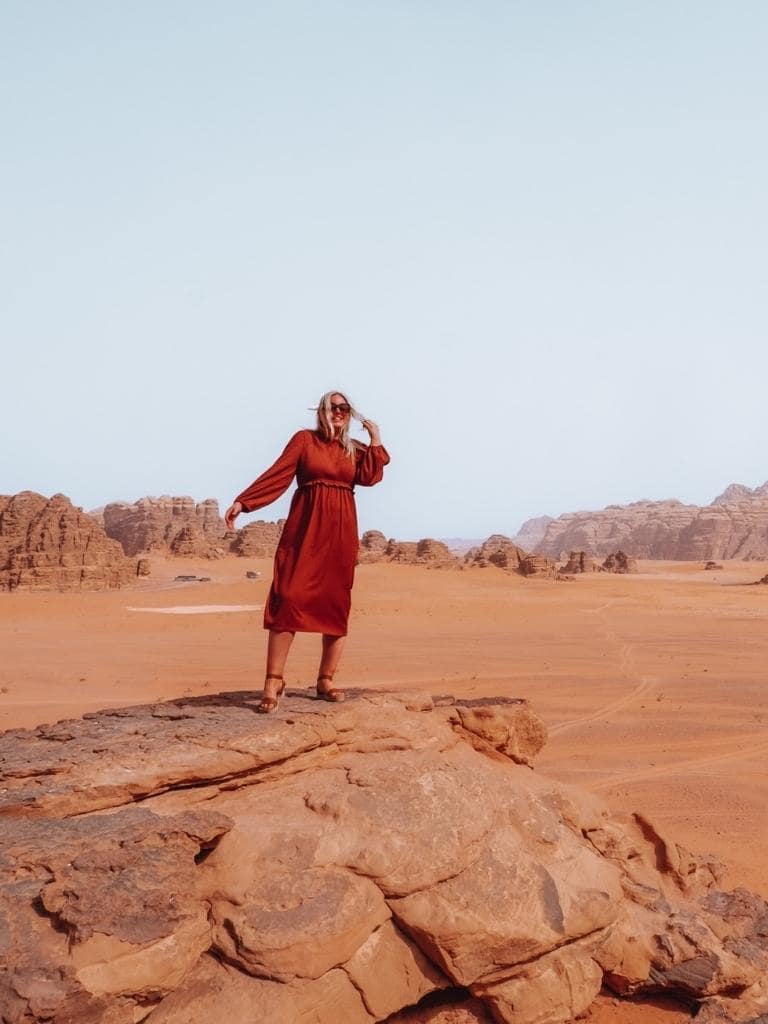 History and Culture of Wadi Rum
When exploring Wadi Rum, you will be fascinated by its unique history and culture. The desert is home to ancient Nabatean ruins, inscriptions, and petroglyphs, reflecting the area's rich prehistoric and Byzantine history. However, Wadi Rum is most well-known for its association with T.E. Lawrence, a British officer and author based in the desert during the Arab Revolt of 1917. Lawrence made Wadi Rum famous as the location where he met with Arab leaders to plan their revolt against the Ottoman Empire. Today, the area's cultural element is still alive and well, largely thanks to the Bedouin community residing in the village. Many Bedouin people living in Wadi Rum still maintain their traditional nomadic lifestyle, herding their goats and sheep around the desert. Visitors can immerse themselves in Bedouin culture by enjoying a traditional meal and listening to live music on traditional instruments. With nearly 300 square miles of terrain, there's ample opportunity to explore the desert by Jeep, camel, or foot, gaining insights into Bedouin life and learning about Wadi Rum's rich cultural history.
One of the unique aspects of Wadi Rum is that it's a living history museum where visitors can witness the daily lives of the Bedouin people and experience their unique culture. Bedouin culture can vary slightly by tribe, but common cultural themes include hospitality, sharing, and a deep reverence for the desert environment that has long been their home. The Bedouin people are known for their unique handicrafts, such as rugs, bags, and jewellery. Bedouin hospitality is renowned in the Middle East, and visitors to Wadi Rum will find themselves welcomed with open arms and treated to generous meals, often cooked using traditional Bedouin techniques. To experience Bedouin culture in Wadi Rum, visitors can opt to stay in one of the many Bedouin-run camps. These camps offer basic yet comfortable accommodations with Bedouin-style tents, meals, and entertainment in the evenings. By choosing to stay in a Bedouin camp, visitors are allowed to experience desert life more authentically. Whether you're sipping sweet tea under the stars, listening to the notes of a traditional Bedouin song, or riding a camel across the sandscape surrounded by the Bedouin people, Wadi Rum will leave an indelible mark on your heart.
[3]
[4]
Activities to do in Wadi Rum
Are you planning a trip to Wadi Rum and wondering what activities to do? Here are some exciting things to try out during your stay in this adventurer's paradise:
1. Jeep Tour: 
A guided jeep tour is the best way to explore Wadi Rum. You can quickly cover a lot of ground and see key sights in the desert, such as Lawrence Spring, Khazali Canyon, and Anfishiyyeh.
2. Camel Riding: 
Experience traditional Bedouin transportation with a camel ride adventure. It's a slow and peaceful way to explore the beautiful desert around you.
3. Rock Climbing:
Wadi Rum is a world-class destination for rock climbing enthusiasts. With its unique sandstone and basalt mountains, this desert offers challenges for both beginners and experienced climbers.
4. Hiking:
Wadi Rum has a variety of trails for all levels of hikers. You can choose from a stroll around the valley or a challenging hike to the top of Burdah Rock Bridge for stunning panoramic views of the desert.
5. Hot air balloon:
Take your Wadi Rum experience to a new level by soaring over the desert in a hot air balloon. You'll see the stunning desert landscape from a bird's eye view.
6. Astronomy Tour:
The clear night sky in Wadi Rum is a sight. Book an astronomy tour to learn more about the stars and constellations while enjoying a peaceful evening in the desert.
With so many activities, making the most of your time in Wadi Rum is easy. Whether you're an adrenaline junkie or prefer a more relaxed pace, there's something for everyone in this adventurer's playground.
[5]
[6]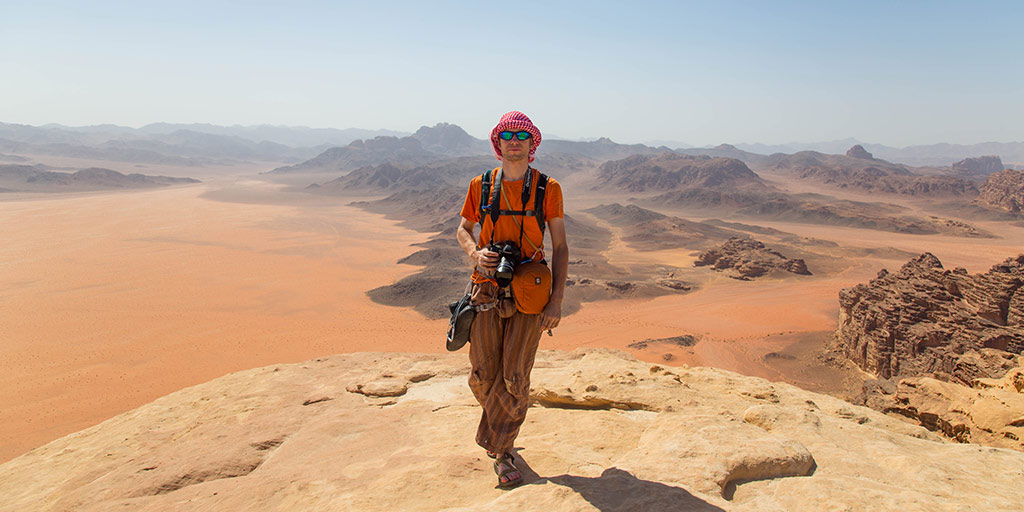 One Day Itinerary for Wadi Rum
Are you planning a day trip to Wadi Rum? You can still cover most desert sites and natural rock formations in one day. Book a guided Jeep tour and set off from Rum Village. First stop: Lawrence Spring, where you can scramble to the top and enjoy sweeping desert views. Then, visit Khazali Canyon and Anfishiyyeh to appreciate the ancient inscriptions on the rock walls. Take a break from the desert heat and enjoy an authentic Bedouin lunch before continuing your tour to Um Fruth rock bridge and Abu Khashaba Canyon. Don't forget to learn local lore at Lawrence House and take in the sunset at Um Sabatah before returning!
[7]
[8]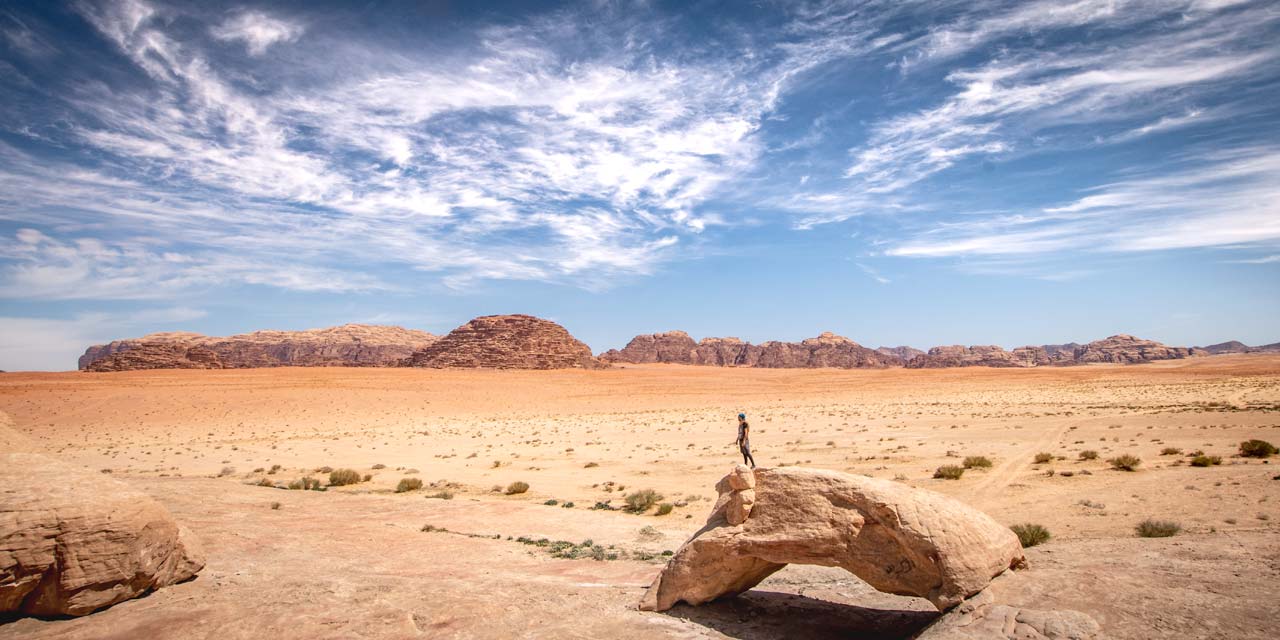 Accommodation in Wadi Rum
Wadi Rum has varied accommodation options, from rustic campsites to luxurious glamping experiences. Many visitors stay overnight in a Bedouin camp for an authentic desert experience. These camps offer traditional Bedouin hospitality, allowing guests to immerse themselves in the local culture. Some campsites provide basic amenities, including shared bathrooms and meals served in a communal setting. Others offer luxurious accommodations, including private tents with en-suite bathrooms and hot showers. It's important to note that most campsites do not have electricity, and Wi-Fi is unavailable in the desert. However, this provides the perfect opportunity to unplug and disconnect from the hustle and bustle of modern life. If you prefer more traditional lodging options, hotels and guesthouses are located in the nearby village of Wadi Rum.
[9]
[10]